Press
JERSEY JAZZ
Swingin' on the Suncoast
Florida's long-running Suncoast Jazz Festival spans five simultaneous indoor venues and ballroom between the Sheraton Sand Key and Marriott Sand Key in Clearwater Beach, where 20 bands and guest artists from around the country entertained the trad jazz faithful for three days (and nights) last November. Jersey Jazz's photo editor Mitchell Seidel made the annual trek to the Sunshine State's west coast where he labored mightily over a sometimes balmy weekend for our exclusive report which begins on page 26.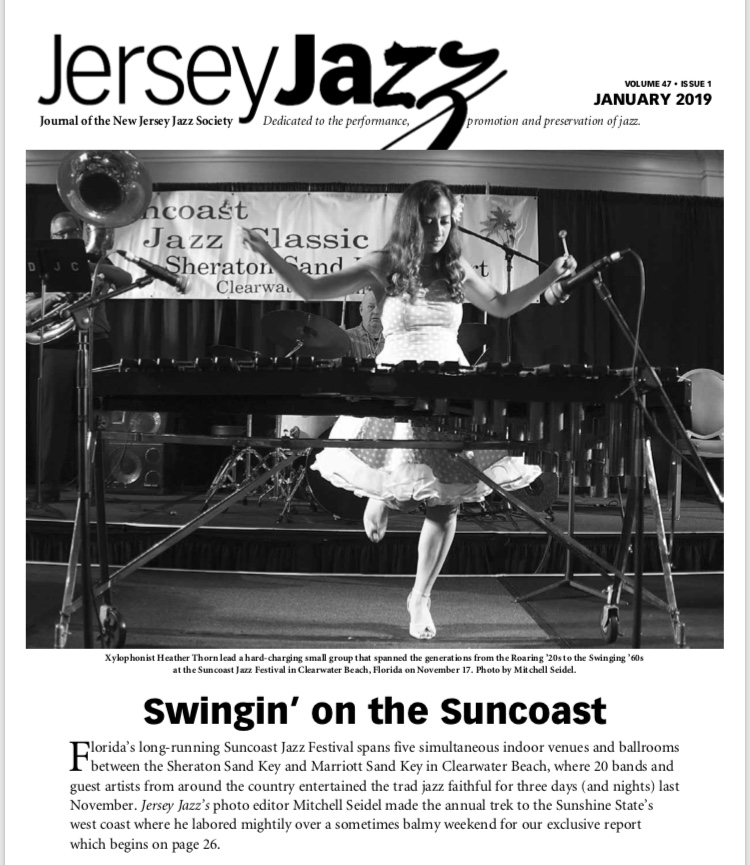 Photo: Xylophonist Heather Thorn led a hard-charging small group that spanned the generations from the Roaring '20s to the Swinging '60s at the Suncoast Jazz Festival in Clearwater Beach, Florida on November 17. Photo by Mitchell Seidel.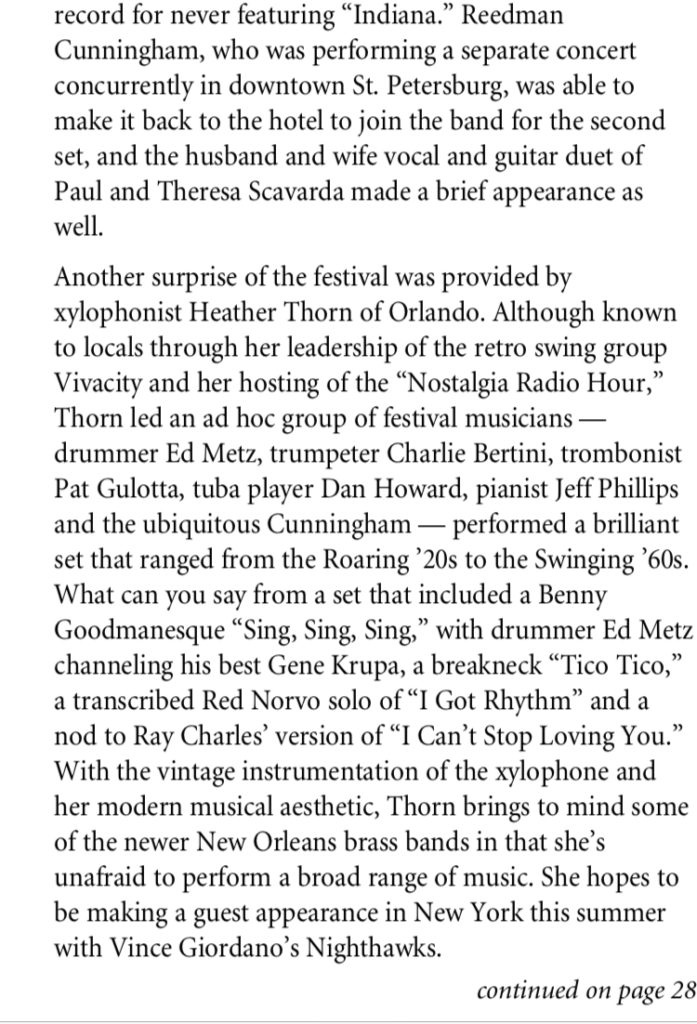 Another surprise of the festival was provided by xylophonist Heather Thorn of Orlando. Although known to locals through her leadership of the retro swing group Vivacity and her hosting of the "Nostalgia Radio Hour," Thorn led an ad hoc group of festival musicians – drummer Ed Metz, trumpeter Charlie Bertini, trombonist Pat Gulotta, tuba player Dan Howard, pianist Jeff Phillips and the ubiquitous Cunningham – performed a brilliant set that rangd from the Roaring '20s to the Swinging '60s. What can you say from a set that included a Benny Goodmanesque "Sing, Sing, Sing," with drummer Ed Metz channeling his best Gene Krupa, a breakneck "Tico Tico," a transcribed Red Norvo solo of "I Got Rhythm" and a nod to Ray Charles' version of "I Can't Stop Loving You." With the vintage instrumentation of the xylophone and her modern musical aesthetic, Thorn brings to mind some of the newer New Orleans brass bands in that she's unafraid to perform a broad range of music. She hopes to be making a guest appearance in New York this summer with Vince Giordano's Nighthawks.
---
ORLANDO ARTS MAGAZINE
Heather Thorn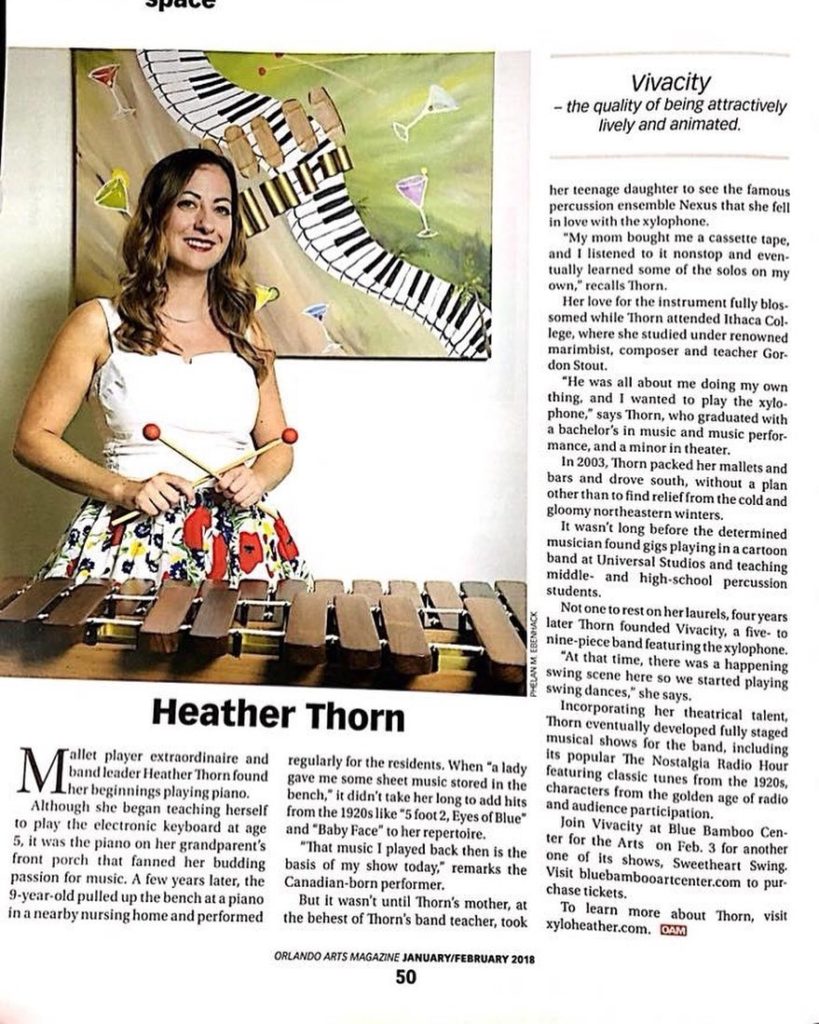 Mallet player extraordinaire and band leader Heather Thorn found her beginnings playing piano. Although she began teaching herself to play the electronic keyboard at age 5, it was the piano on her grandparent's front porch that fanned her budding passion for music.
A few years later, the 9-year-old pulled up the bench at a piano in a nearby nursing home and performed regularly for the residents. When "a lady gave me some sheet music stored in the bench," it didn't take her long to add hits from the 1920s like "5 foot 2, Eyes of Blue" and "Baby Face" to her repertoire. "That music I played back then is the basis of my show today," remarks the Canadian-born performer.
But it wasn't until Thorn's mother, at the behest of Thorn's band teacher, took her teenage daughter to see a famous percussion ensemble Nexus that she fell in love with the xylophone. "My mom bought me a cassette tape, and I listened to it nonstop and eventually learned some of the solos on my own," recalls Thorn. Her love for the instrument fully blossomed while Thorn attended Ithaca College, where she studied under renowned marimbist, composer and teacher Gordon Stout. "He was all about me doing my own thing, and I wanted to play the xylophone," says Thorn, who graduated with a bachelor's in music and music performance, and a minor in theatre.
In 2003, Thorn packed her mallets and bars and drove south, without a plan other than to find relief from the cold and gloomy northeastern winters. It wasn't long before the determined musician found gigs playing in a cartoon band at Universal Studios and teaching middle- and high-school percussion students.
Not one to rest on her laurels, four years later Thorn founded Vivacity, a five- to nine-piece band featuring the xylophone. "At that time, there was a happening swing scene here so we started playing swing dances," she says.
Incorporating her theatrical talent, Thorn eventually developed fully staged musical shows for the band, including its popular The Nostalgia Radio Hour featuring classic tunes from the 1920s, characters from the golden age of radio and audience participation.
Join Vivacity at Blue Bamboo Center for the Arts on Feb. 3 for another one of its shows, Swetheart Swing. Visit bluebambooartcenter.com to purchase tickets.
---
SANFORD HERALD
A Vivacity Christmas will hold virtual show
A band that held its first public concert here in Sanford more than a dozen years ago will hold a pair of livestream holiday concerts Dec. 12.
Heather Thorn and her Vivacity band welcome their Yuletide partner Adrian Cunningham for A Vivacity Christmas at 4 and 7 p.m. that Saturday. Struggles struck performing artists hard in the Central Florida area, but Thorn and her band rose to the challenge. "During the pandemic, we've kept busy recording shows to be aired for retirement homes," Thorn said. They also played at one of the first Artist Feed the Need events at The Plaza Live.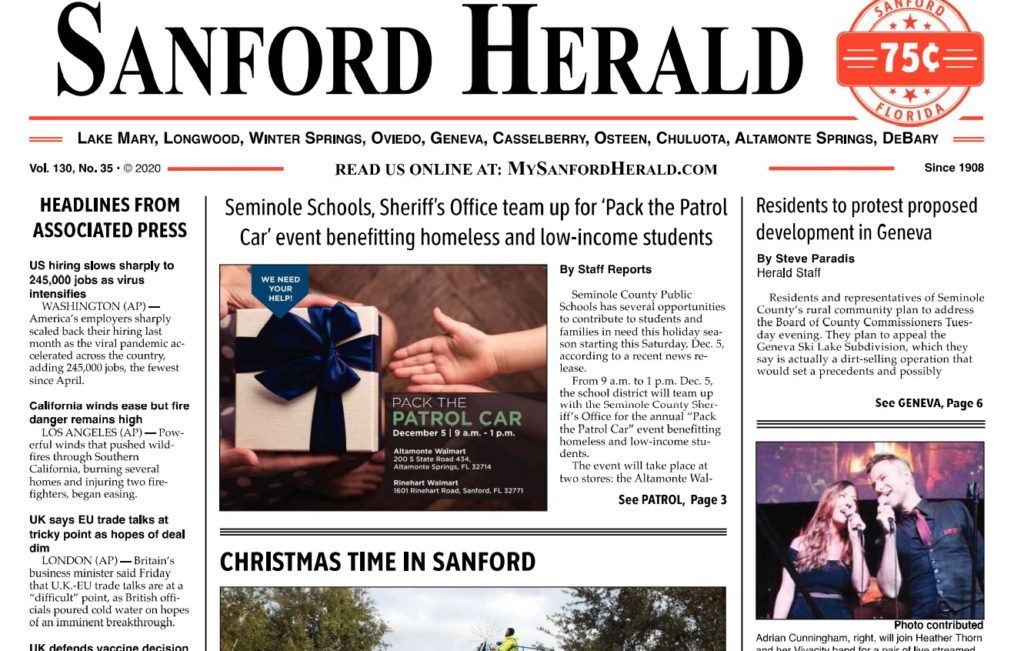 Adrian Cunningham, right, will join Heather Thorn and her Vivacity band for a pair of live streamed Christmas concerts Dec. 12.
In June, a portion of their livestream take went to the United Negro College Fund. The band also raised money for two venues where they often play, the Blue Bamboo in Winter Park and the Timucua Foundation White House in Orlando. "We plan to continue to do so in the new year," Thorn said. In just the past month, the band has finished recording its second album, performed a livestream concert from the White House at Timucua, staged two Veterans Day shows, performed again at the final Artist Feed the Need event and appeared at the Suncoast Virtual Jazz Festival.
Regular Vivacity vocalist Krissy Vavrek and Thorn even learned the Lindy Hop via Zoom from an instructor in Barcelona, Spain. They shared the dance with virtual audiences, and the pair has planned a new routine for A Vivacity Christmas, which will be live streamed from the White House at Timucua in Orlando. Thorn is a world renowned xylophonist who is living her dream honed in her early years playing for her family in Ontario, Canada. Thorn has lived in Central Florida for years and is beloved by hundreds of percussion students, many from Seminole County schools. She has performed at well-known jazz venues, including the New Orleans Jazz Museum. She and her Vivacity band headlined the Festival I Love Jazz in Brazil in 2019.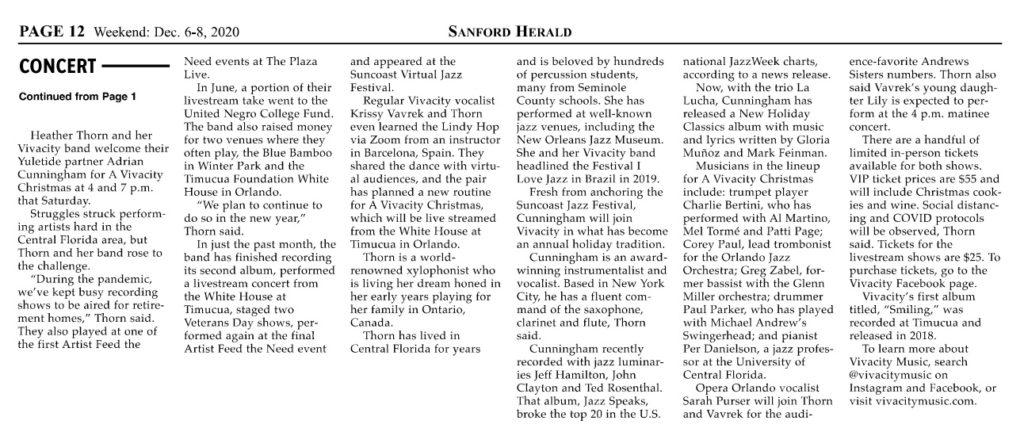 Fresh from anchoring the Suncoast Jazz Festival, Cunningham will join Vivacity in what has become an annual holiday tradition. Cunningham is an award-winning instrumentalist and vocalist. Based in New York City, he has a fluent command of the saxophone, clarinet and flute, Thorn said. Cunningham recently recorded with jazz luminaries Jeff Hamilton, John Clayton and Ted Rosenthal. That album, Jazz Speaks, broke the top 20 in the U.S. national Jazz Week charts, according to a news release. Now, with the trio La Lucha, Cunningham has released a New Holiday Classics album with music and lyrics written by Gloria Muñoz and Mark Feinman.
Musicians in the lineup for A Vivacity Christmas include: trumpet player Charlie Bertini, who has performed with Al Martino, Mel Tormé and Patti Page; Corey Paul, lead trombonist for the Orlando Jazz Orchestra; Greg Zabel, former bassist with the Glenn Miller orchestra; drummer Paul Parker, who has played with Michael Andrew's Swingerhead; and pianist Per Danielsson, a jazz professor at the University of Central Florida. Opera Orlando vocalist Sarah Purser will join Thorn and Vavrek for the audience-favorite Andrews Sisters numbers. Thorn also said Vavrek's young daughter Lily is expected to perform at the 4 p.m. matinee concert. There are a handful of limited in-person tickets available for both shows. VIP ticket prices are $55 and will include Christmas cookies and wine. Social distancing and COVID protocols will be observed, Thorn said. Tickets for the livestream shows are $25. To purchase tickets, go to the Vivacity Facebook page. Vivacity's first album titled, "Smiling," was recorded at Timucua and released in 2018. To learn more about Vivacity Music, search @vivacitymusic on Instagram and Facebook, or visit vivacitymusic.com.
---
NEW JERSEY JAZZ SOCIETY
Xylophonist Heather Thorn To Lead Trio at March Social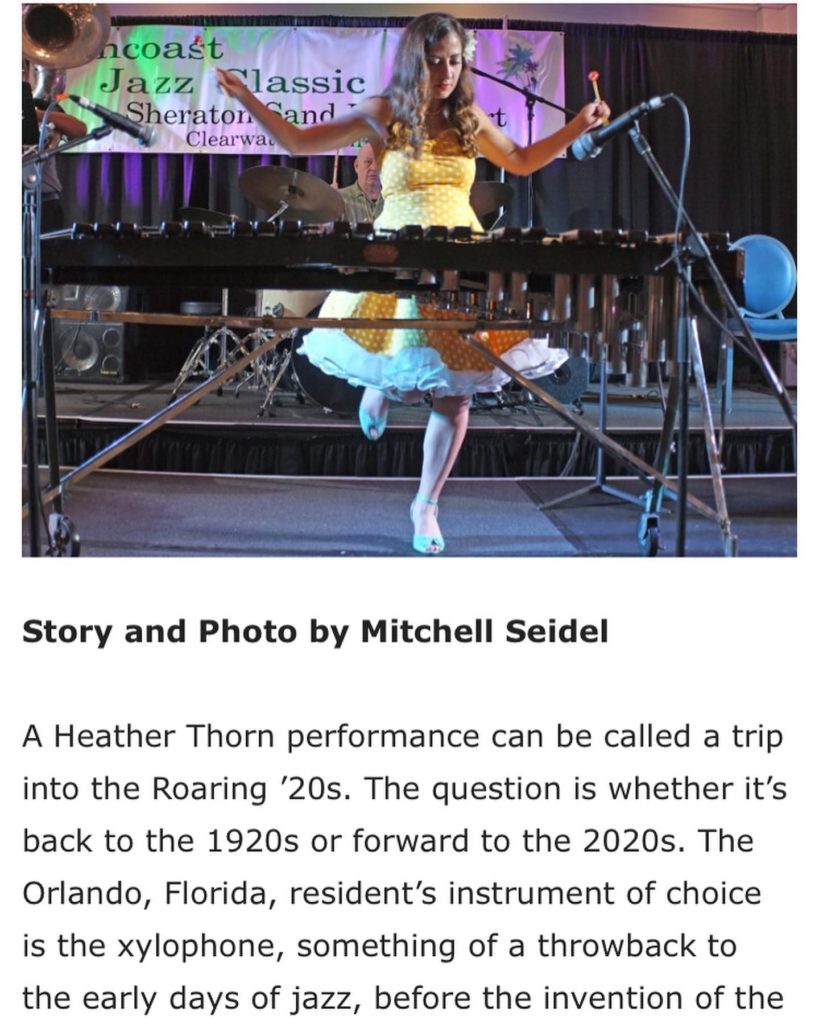 A Heather Thorn performance can be called a trip into the Roaring '20s. The question is whether it's back to the 1920s or forward to the 2020s. The Orlando, Florida, resident's instrument of choice is the xylophone, something of a throwback to the early days of jazz, before the invention of the amplified vibraphone, popularized during the Swing Era by the likes of Lionel Hampton and Red Norvo.
While Thorn's instrumentation is anchored in the past, her — and her band's — repertoire spans several generations. What can you say from a set that might include a Benny Goodmanesque "Sing, Sing, Sing," a breakneck rendition of "Tico Tico," a transcribed Red Norvo solo of "I Got Rhythm", and a nod to Ray Charles' version of "I Can't Stop Loving You"? With the vintage instrumentation of the xylophone and her modern musical aesthetic, Thorn brings to mind some of the newer New Orleans brass bands in that she's unafraid to perform a broad range of music. As a player she is capable of performing sweetly melodic solos for some tunes, then sifting to furiously mallet-bending runs for others.
The percussionist can often be heard leading her band, Vivacity, a nine-piece retro swing group with a large following in central Florida, as well as orchestral groups featured in the Disney Orlando-area parks. The Canadian-born musician's fame reaches beyond her home. Last year Vivacity, featuring Thorn, was the headline act for the I Love Jazz International Jazz Festival in Brazil. Last November, she was one of the stars at the Suncoast Jazz Classic in Clearwater Beach, FL.
On Sunday, March 15, Thorn will be leading a trio at the New Jersey Jazz Society's Jazz Social at Shanghai Jazz in Madison. Following this performance, she is booked as a guest performer one evening with Vince Giordano's Nighthawks in Manhattan. Thorn has invited along two metro area stalwarts of the swing tradition, saxophonist Michael Hashim and pianist Alberto Pibiri to join her at the Social.
Despite his youthful appearance, Hashim has been a fixture on the jazz scene for more than 40 years, going back as far as the Widespread Depression Jazz Orchestra in the 1970s. A talented leader and frequent sideman, he has performed with such musicians as guitarist Chris Flory, bassist Dennis Irwin, drummer Kenny Washington, keyboardist Mike LeDonne, trumpeter Roy Eldridge, drummer Jo Jones, pianist Brooks Kerr, drummer Sonny Greer, and pianists Jimmy Rowles and Judy Carmichael. Hashim is no stranger to the New Jersey Jazz Society, having performed at the annual Pee Wee Russell Memorial Stomp, a Jazz Social in a small group and in concert with his Billy Strayhorn Orchestra.
Italian-born Madison resident Pibiri is heavily influenced by the work of Oscar Peterson and also has earned a spot as one of the better go-to names in swing jazz. He is mainstay of saxophonist Adrian Cunningham's band, Professor Cunningham's Old School, and appears on its latest Arbors CD release, Professor Cunningham and His Old School Swings Disney.
The New Jersey Jazz Society produces 10 Sunday Jazz Socials a year, all of which are free to members. Admission is $10 for non-members, and there is a $10 food/beverage mininum for all attendees. Shanghai Jazz is located at 24 Main St. in Madison. Doors open at 2:30 p.m., and the music is performed from 3-5 p.m., with one short intermission. For more information, call (908) 380-2847 or email [email protected].
Funding for the NJJS Socials has been made possible in part by Morris Arts through the New Jersey State Council of the Arts/Department of State, a partner agency of the National Endowment of the Arts.
---
ESTADO DE MINAS
Percussionist Heather Thorn debuts in Brazil with show Saturday in BH
Jazz lovers will be able to watch American percussionist Heather Thorn and his band Vivacity , who present American music classics on their first come to Brazil on Saturday (16), at the Grano Market, in Jardim Canadá, in Nova Lima. "I'm very excited to visit Brazil for the first time and look forward to sharing my music with the audience on Saturday night," she says. In August, Heather returns to Belo Horizonte to perform at one of the most traditional and important jazz festivals in Brazil, the I Love Jazz. With influences from ragtime, swing jazz and bebop, the percussionist creates unique arrangements for xylophone, a percussion instrument to which she has been dedicated both in musical execution and in researching her history and influence in American jazz.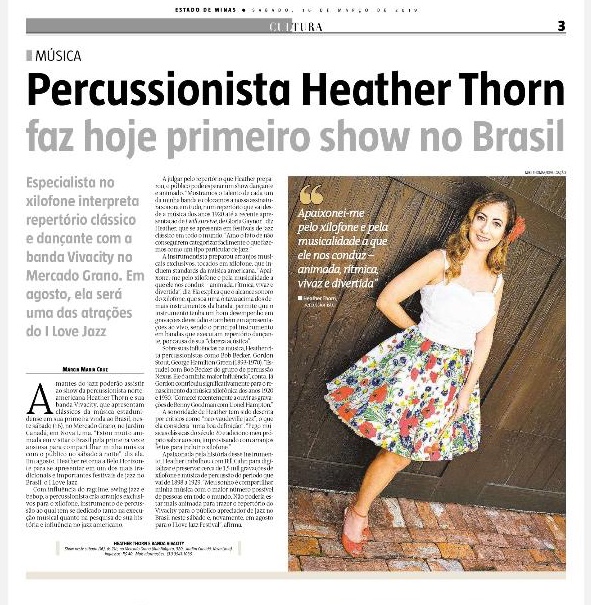 Judging by the repertoire that Heather has prepared, the audience can expect a lively and lively show. "We show the talent of each one of my band and we put our signature sound in everything, in a repertoire that goes from the music of the 1920s until the recent presentation of Gloria Gaynor's I will survive", says Heather, who presents himself in classical jazz festivals around the world. "I love the fact that they can not easily categorize what we do as a particular type of jazz." The instrumentalist prepared exclusive musical arrangements, played in xylophone, which include standards of American music. "I fell in love with the xylophone because of the musicality that it leads to – lively, rhythmic, lively and fun," he says. She explains that the sound range of the xylophone, which sounds an octave above the other instruments of the band, allows the instrument to perform well in studio recordings and also in live performances, being the main instrument in bands that perform dance repertoire, because of its "acoustic clarity". About her influences on music, Heather cites percussionists such as Bob Becker, Gordon Stout, George Hamilton Green (1893-1970). "I studied with Bob Becker from the Nexus percussion group. He is my biggest influence, "he says. Gordon contributed significantly to the revival of xylophonic music of the 1920s and 1930s. "I recently started listening to Benny Goodman's recordings with Lionel Hampton."
Heather's sonority has been described by critics as "neo-vaudeville jazz," which she calls "a good definition." "I pick up classical music from the 20th century and add my own flavor to the sound, improvising with arrangements made to include xylophone." Passionate about the history of this instrument, Heather worked with Bill Cahn to digitize and preserve about 1,500 recordings of xylophone and percussion music from the period 1898 to 1929. "My dream is to share my music with as many people around the world. I could not be more excited to bring Vivacity's repertoire to the jazz-savvy audience in Brazil this Saturday and again in August for the I Love Jazz Festival, "he says.
Photo: Specialist in xylophone interprets classic repertoire and dance with the band Vivacity in the Market Grano. In August, it will be one of the attractions of I Love Jazz.
---
SANFORD HERALD
Vivacity returns to Central Florida for Christmas shows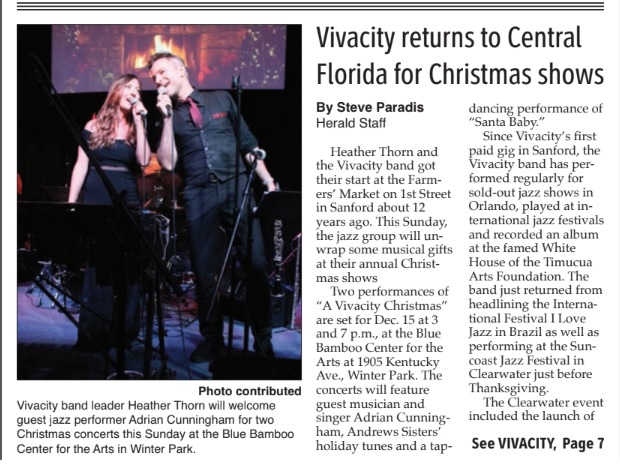 Vivacity band leader Heather Thorn will welcome
guest jazz performer Adrian Cunningham for two
Christmas concerts this Sunday at the Blue Bamboo
Center for the Arts in Winter Park.
Heather Thorn and the Vivacity band got their start at the Farmers' market on 1st Street in Sanford about 12 years ago. This Sunday, the jazz group will unwrap some musical gifts at their annual Christmas shows. Two performances of "A Vivacity Christmas" are set for Dec. 15 3 and 7 p.m., at the Blue Bamboo Center for the Arts at 1905 Kentucky Ave., Winter Park. The concerts will feature guest musician and singer Adrian Cunningham, Andrews Sisters' holiday tunes and a tap dancing performance of "Santa Baby."

Since Vivacity's first paid gig in Sanford, the Vivacity Band has performed regularly for sold-out jazz shows in Orlando, played at international jazz festivals and recorded an album at the famed White House of the Timucua Arts Foundation. The band just returned from headlining the International Festival I Love Jazz in Brazil as well as performing at the Suncoast Jazz Festival in Clearwater just before Thanksgiving.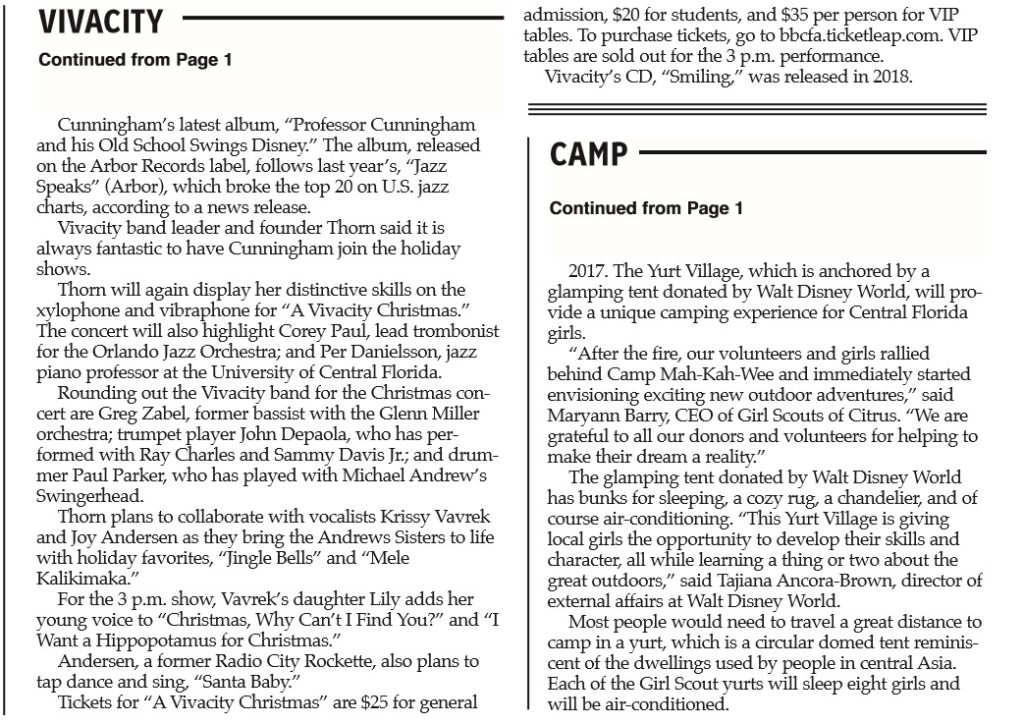 The Clearwater event included the launch of Cunningham's latest album, "Professor Cunningham and his Old School Swings Disney." The album, released on the Arbor Records label, follows last year's, "Jazz Speaks" (Arbor), which broke the top 20 on U.S. jazz charts, according to a news release. Vivacity band leader and founder Thorn said it is always fantastic to have Cunningham join the holiday shows. Thorn will again display her distinctive skills on the xylophone and vibraphone for "A Vivacity Christmas."
The concert will also highlight Corey Paul, lead trombonist for the Orlando Jazz Orchestra; and Per Danielsson, jazz piano professor at the University of Central Florida. Rounding out the Vivacity band for the Christmas concert are Greg Zabel, former bassist with the Glenn Miller orchestra; trumpet player John Depaola, who has performed with Ray Charles and Sammy Davis Jr.; and drummer Paul Parker, who has played with Michael Andrew's Swingerhead. Thorn plans to collaborate with vocalists Krissy Vavrek and Joy Andersen as they bring the Andrews Sisters to life with holiday favorites, "Jingle Bells" and "Mele Kalikimaka."
For the 3 p.m. show, Vavrek's daughter Lily adds her young voice to "Christmas, Why Can't I Find You?" and "I Want a Hippopotamus for Christmas." Andersen, a former Radio City Rockette, also plans to tap dance and sing, "Santa Baby."
Tickets for "A Vivacity Christmas" are $25 for general admission, $20 for students, and $35 per person for VIP tables. To purchase tickets, go to bbcfa.ticketleap.com. VIP tables are sold out for the 3 p.m. performance. Vivacity's CD, "Smiling," was released in 2018.
---
ORLANDO WEEKLY – THE HEARD
Band of the Week – Vivacity
Welcome to Orlando Weekly's "Band of the Week." Every week, we highlight one of our favorite local bands. This week, we're pleased to bring you Vivacity.
Vivacity is playing their CD release party at Timucua Arts White House on May 31.
Just the facts:
When did the band form?
Vivacity was formed in 2007 as a band for swing dances and resort entertainment.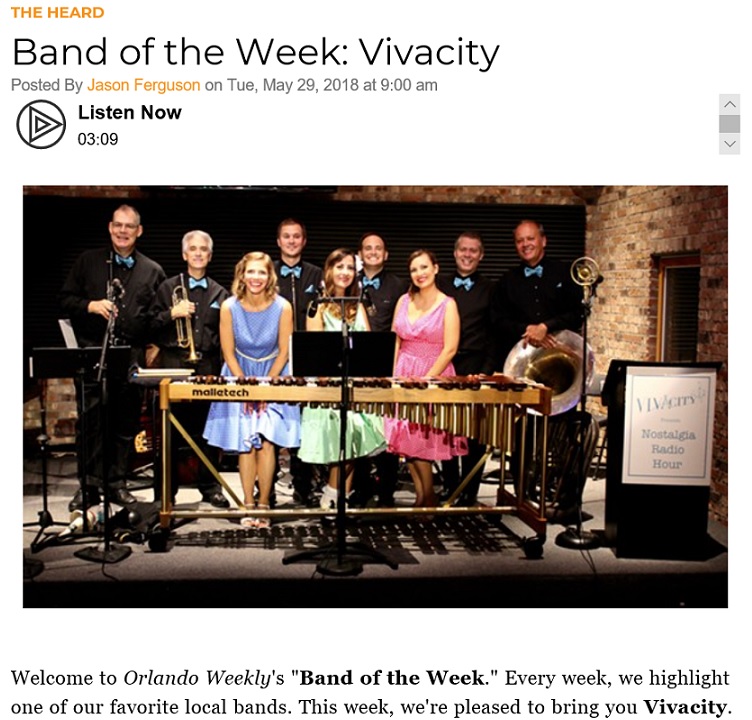 Who's in the band?
Heather Thorn – founder, band leader and xylophonist. She also writes the scripts for their stage show called Nostalgia Radio Hour
Claude Kashnig – founding member, co-scriptwriter and tuba player
Daniel Jordan – saxophone/flute and music and business advisor
Paul Parker and Greg Parnell – drums
David Mackenzie – saxophones/flute/clarinet and music arranger
Amy Parnell – radio announcer and vocalist
Krissy Vavrek – vocals
John Depaola – trumpet
Clayton Lucovich – trombone
Paul Scavarda – banjo
Charlie Silva – upright bass
Per Danielsson – piano
Currently available releases:
Vivacity's newest release Smiling is available on CD Baby, iTunes, and Spotify. Our Album Release party is scheduled for Thursday May 31st at 7:30pm at the Timucua Arts White House, where the CD was recorded last fall.
Websites:
Facebook and Instagram @VivacityMusic and www.vivacitymusic.com
Describe your sound in five words:
Neo-vaudeville, jazz, attractively lively, animated
Five questions:
What has been your most memorable show so far?
The tie for memorable show so far is between the debut of Nostalgia Radio Hour at the White House in August 2016 and our most recent performance at the Blue Bamboo – a Great Gatsby swing dance event!
Which local band is your favorite one to play a show with?
It's not a band, but we absolutely love to play for swing dancers; the energy between the band and the dancers is truly spectacular and unparalleled. i
What description gets used for your band that you would most like to correct people on? Why?
Any description that tries to put us in a box. We have our own, very original sound that is unlike anything we've heard anywhere else: It's ragtime, meets early jazz, meets swing, meets bebop sometimes! Vivacity showcases the talent of each unique musician, putting our own signature sound-stamp on everything from the music of the 1920s to the Great American Songbook.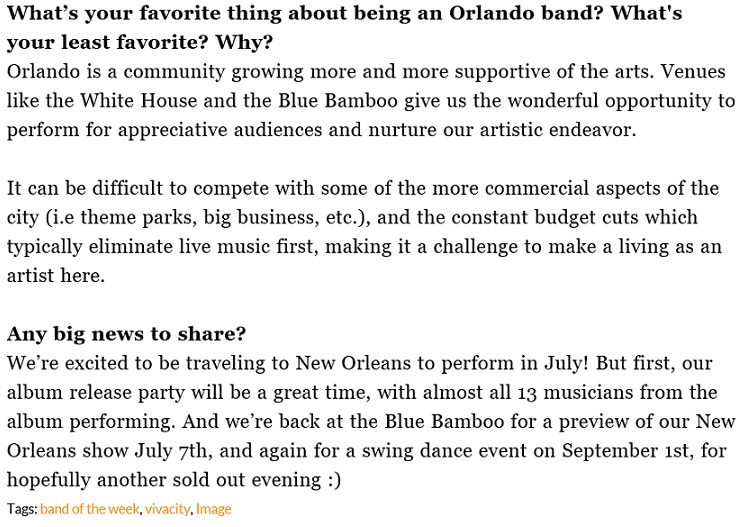 What's your favorite thing about being an Orlando band? What's your least favorite? Why?
Orlando is a community growing more and more supportive of the arts. Venues like the White House and the Blue Bamboo give us the wonderful opportunity to perform for appreciative audiences and nurture our artistic endeavor.
It can be difficult to compete with some of the more commercial aspects of the city (i.e. theme parks, big business, etc.), and the constant budget cuts which typically eliminate live music first, making it a challenge to make a living as an artist here.
Any big news to share?
We're excited to be traveling to New Orleans to perform in July! But first, our album release party will be a great time, with almost all 13 musicians from the album performing. And we're back at the Blue Bamboo for a preview of our New Orleans show July 7th, and again for a swing dance event on September 1st, for hopefully another sold out evening ?
---
SANFORD HERALD
Sanford appreciates smooth jazz sounds
SANFORD – Even on a stormy afternoon, with lightning striking and rain pouring, people in Sanford turn out to hear their jazz on the first Saturdays each month. On Sept. 1, band members from Vivacity hauled their instruments and other equipment across First Street to set up under the archway next o the Blue Dahlia. This new, steamy, darkened venue brought a different atmosphere to the concert. Performing at the event for the second time this year, xylophone player Heather Thorn introduced the songs and the other band members to just a handful of people at first.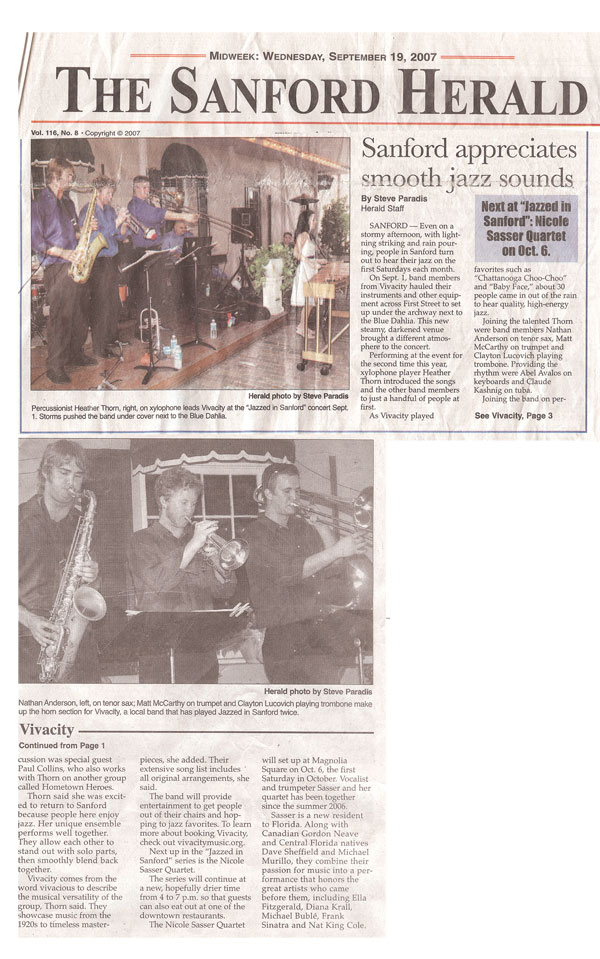 As Vivacity played favorites such as "Chattanooga Choo-Choo" and "Baby Face," about 30 people came in out of the rain to hear quality, high-energy jazz. Joining the talented Thorn were band members Nathan Anderson on tenor sax, Matt McCarthy on trumpet and Clayton Lucovich playing the trombone. Providing the rhythm were Abel Avalos on keyboards and Claude Kashnig on tuba. Joining the band on percussion was special guest Paul Collins, who also works with Thorn on another group called Hometown Heroes. Thorn said she was excited to return to Sanford because people here enjoy jazz. Her unique ensemble performs well together. They allow each other to stand out with solo parts, then smoothly blend back together. Vivacity comes from the word vivacious to describe the musical versatility of the group. Thorn said they showcase music from the 1920s to timeless masterpieces, she added. Their extensive song list includes all original arrangements, she said. The band will provide entertainment to get people out of their chairs and hopping to jazz favorites. To learn more about booking Vivacity, check out vivacitymusic.org.
Photo: Percussionist Heather Thorn, right, on xylophone leads Vivacity at the "Jazzed in Sanford" concert Sept. 1. Storms pushed the band under cover next to the Blue Dahlia.
Photo: Nathan Anderson, left on tenor sax, Matt McCarthy on trumpet and Clayton Lucovich playing trombone make up the horn section for Vivacity, a local band that has played Jazzed in Sanford twice.
---
ORANGEOBSERVER.COM
The 1920's swing band put on a show at the Blue Bamboo Center for the Arts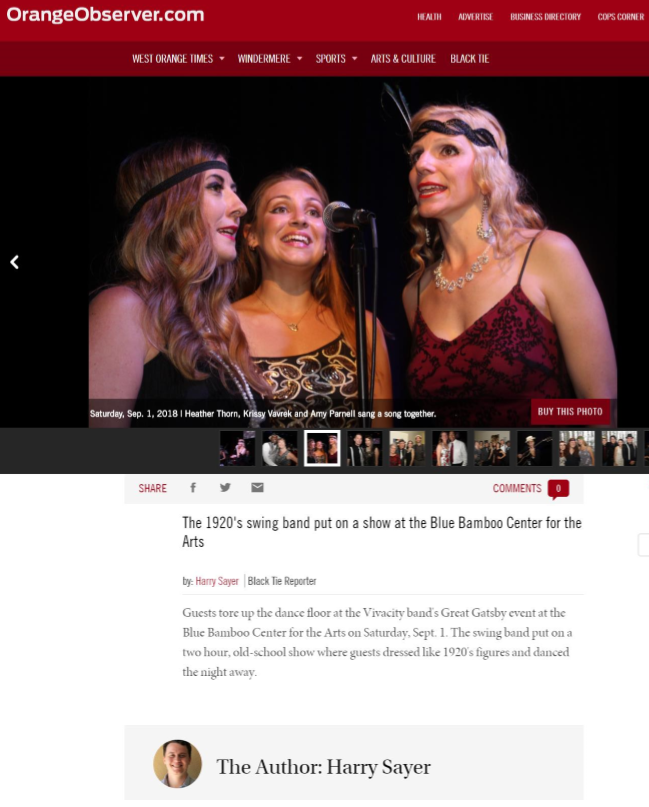 Guests tore up the dance floor at the Vivacity band's Great Gatsby event at the Blue Bamboo Center for the Arts on Saturday, Sept. 1. The swing band put on the two hour, old-school show where guests dressed like 1920s figures and danced the night away.